Lead Stories
Trash old cases - Justice minister wants lingering legal disputes thrown out after two years

Justice Minister Mark Golding has served noticed that cases which linger for too long in the courts will be thrown out. A new law is to be put in place to allow for these cases to be trashed after two years.

News
Hospitality Jamaica awards on tonight
The eyes of the hospitality world will be on the Montego Bay Convention Centre in St James, tonight, as the scenic venue will play host to The Gleaner's Hospitality Jamaica 10th anniversary awards, which is designed to reward excellence in the hospitality/tourism sector.
Business
Jamaicans urged to pay outstanding property taxes

Minister of Local Government and Community Development, Noel Arscott, is appealing to Jamaicans to pay over the $2.8 billion in outstanding property taxes for the current fiscal year.

Sports
'An act of final betrayal' - Patterson says players' walkout a collapse of governance

Former Jamaica Prime Minister PJ Patterson has described West Indies' walkout of the India tour as "humiliation" and says it has exposed "a total collapse of a governance system" in the administration of the game by the West Indies Cricket Board (WICB).

Commentary
EDITORIAL - The truth behind high energy costs
It is something of a cruel joke for Prime Minister Portia Simpson Miller to stand in front of an audience in 2014 and declare that high energy costs are the single, greatest deterrent to the country's economic growth.
Letters
LETTER OF THE DAY - Mandeville Hospital Ebola shame
The front-page story in The Gleaner of October 22, 2014 about Mandeville Hospital titled 'Not Ebola-ready' broke my heart. It was distressing to read of the treatment meted out to an ill patient at an institution that has so much personal significance to me, having interned at that facility in 1995 after five years of med school.
Entertainment
Rebel Salute or Sting - or both?

On the face of it, Sting, dubbed The Greatest One Night Reggae and Dancehall Show on Earth, and Rebel Salute are opposites - even opposing - events. In any given calendar year, they are held 12 months apart.

Lifestyle
Clarendon Leos fight breast cancer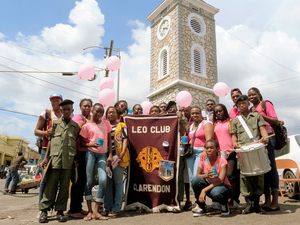 THE LEO Club of Clarendon has taken another step in its fight against breast cancer at its second annual Breast Cancer Awareness fundraising walk in May Pen last Saturday.

Western Focus
Give us back our bridge

Stakeholders in Hanover have expressed concern that the farming community of Georgia, in the parish is still suffering due to the demolition of the Dundee Bridge, which connects the interior of the parish's two constituencies, more than five years ago.