Lead Stories
Measles alert

JAMAICAN HEALTH authorities yesterday issued an urgent appeal to parents to immediately have their children immunised for measles and other vaccine-preventable diseases.

News
Opposition senator raises questions about clause in ganja law

OPPOSITION SENATOR Tom Tavares-Finson is questioning whether the justice minister will have to be summoned each time a person claiming to be a Rastafarian is stopped by the police for possession of ganja.

Business
'Farming is the key to survival' - Kaballist

For Jamaica-born, United States-based reggae artiste Kaballist, farming and music go hand in hand. Sharing a passion for both, his life is all about the two.

Sports
Fraser-Pryce, Carter to defend 60m titles

WORLD Indoor 60 metres champion, Shelly-Ann Fraser-Pryce, of the MVP Track Club, will kick off her track and field season today at the Queen's Grace Jackson meet at the National Stadium, where she will defend her 60 metres title.

Commentary
EDITORIAL - Tackling unemployment
Bike taxis are proving to be a major challenge to the police in Westmoreland. For one thing, passengers are put at risk since they do not wear protective gear. And, many reports indicate that some of these bikes are not licensed and may not even be roadworthy.
Letters
LETTER OF THE DAY - Was it Massop's duppy, Rev Thames?
For the life of me I cannot understand why the Rev Earl Thames insists on presenting an account of Jamaican history that suggests a duppy was a signatory to a peace treaty and participant in a peace march.
Entertainment
Not my universe, not my world

There are quite a few things that lay claim to being representative, or the best of, all known human existence - as in the world. There are also those which go even further to extend their claim of supremacy to that which is still largely unknown - the universe.

Lifestyle
All's natural at Durgas Den Farm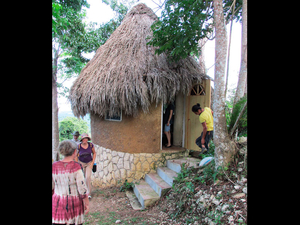 AT DURGAS Den Farm, located in the Orange Hill section of Breadnut Hill, St Ann, inorganic or chemical-based fertilisers are not allowed. And, as such, it is also a place where permaculture is a concept and a practice.

Western Focus
Raising a stink - Public urination irks west's mayors

Western Jamaica's mayors say they are still grappling with the issue of persons, particularly men, using areas within the streets of their respective townships as makeshift urinals and causing offensive odours and public-health hazards.