Lead Stories
As fit as ever

The gamut of gestures in speech and action that yesterday greeted the 180 milestone celebrations of the oldest media house in the Western Hemisphere suggested that The Gleaner Company has had a compelling effect anywhere in Jamaica where life unfolds.

News
Why labour in vain?

"Unless the Lord builds the house, they labour in vain who build it; unless the LORD guards the city, the watchman stays awake in vain" (Psalm 127: 1).

Sports
Stewart wins despite illness

Jamaica's Kerron Stewart fought off illness and a determined field to eke out a win in the 100 metres at the ISATF World Challenge meeting in Berlin yesterday.

Commentary
EDITORIAL - Roger Clarke a decent human being
We didn't care much for Roger Clarke as Jamaica's agriculture minister - and made no bones about it.
Letters
LETTER OF THE DAY - If JUTC could be as smart as its card
THE EDITOR, Sir:My mother said last Friday she went to the Transport Authority office at North Parade, next door to Coke Methodist Church, to purchase a Smarter Card.
Entertainment
Queen Fennell

On Saturday night Kaci Fennell emerged from a field of 19 young Jamaican ladies to take the coveted 2014 Hyundai Miss Universe Jamaica (MUJ) crown.

Flair
Not defeated by ALS

Six years ago, swimming was something that Ronald Pelchat enjoyed doing, but now neither his arms nor legs move voluntarily.

Social
Gleaner 180 Photos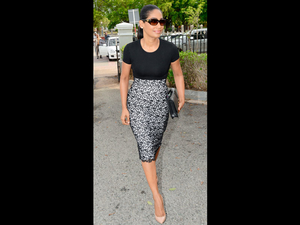 Elegance and glamour shone at The Gleaner's 180th Anniversary church service at the Kingston Parish Church yesterday.

International
Forces break militant siege of Shiite town

BAGHDAD (AP):IRAQI SECURITY forces and Shiite militiamen on Sunday broke a six-week siege imposed by the Islamic State extremist group on the northern Shiite Turkmen town of Amirli, following US airstrikes against the Sunni militants' positions,...